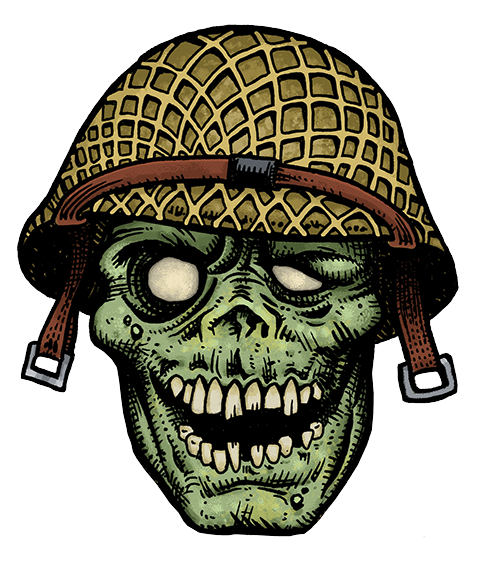 City of Chaos reserves the right to refuse anyone admission. You will experience intense audio, lighting, strobe lights, extreme low visibility, fog, sudden actions, moving floors, special effects, damp or wet conditions, and an overall physically demanding environment. Please DO NOT ENTER our attraction if you suffer from heart conditions, asthma, respiratory issues, seizures, physical ailments, if pregnant, mental disease including claustrophobia, or any type of medical problem. DO NOT ENTER the attraction if intoxicated or have any type of physical limitations, such as, wearing any form of a cast, medical brace, or crutches. DO NOT ENTER the attraction if you are taking drugs or medication of any type. If any of these conditions are noticed by our staff; you will not be admitted. DO NOT run, smoke, eat or drink inside the attraction. Absolutely no touching of the actors, customers, or props inside the attraction. If any of the rules are not followed; you will not be admitted and asked to leave the attraction's property. 
13 years old and under are not permitted without a parent or guardian.
Absolutely No Refunds, ENTER AT YOUR OWN RISK!
By attending City of Chaos, you and your guest voluntarily assume all risks related to exposure to COVID-19 and agree not to hold the artists, the venue; or any of their affiliates, directors, officers, employees, agents liable for any illness or injury.
CPI/CITY OF CHAOS PARTICIPANT AGREEMENT, RELEASE AND ASSUMPTION OF RISK AND
WAIVER/RELEASE FOR COMMUNICABLE DISEASES INCLUDING, BUT NOT LIMITED TO, COVID-19
By purchasing tickets to
The City Of Chaos,
you acknowledge that if I or anyone else is exposed to infectious diseases or becomes ill or is hurt or property is damaged in connection with or during my participation in this activity, I may be found by a court of law to have waived my right to maintain a lawsuit against CPI on the basis of any claim from which I have released them herein.
 In consideration of the services of and being allowed to participate in the activities, including without limitation, the City of Chaos presentation, offered by Combat Park, Inc., its agents, owners, officers, volunteers, participants, employees, contractors, and all other persons or entities acting in any capacity on their behalf (hereinafter collectively referred to as "CPI"), I hereby agree to release, indemnify, and discharge CPI, on behalf of myself, my spouse, my children, my parents, my heirs, assigns, personal representatives, and estate and further acknowledge, appreciate, and agree, as follows:
I acknowledge that my participation in the City of Chaos event and/or any other amusement activities offered by CPI entails known and unanticipated risks that could result in physical or emotional injury, paralysis, death, or damage to myself, to property, or to third parties. I understand that such risks cannot be eliminated without jeopardizing the essential qualities of the activity.
These risks include, among other things: slips and falls; colliding with others which could cause strains, sprains, broken bones and head injuries; cuts, abrasions, and bruises; heat exhaustion, heat stroke, and cardiac related events or illness; falling off of or being thrown from a vehicle which could result in musculoskeletal injuries including head, neck, and back injuries; equipment failure or operator error; the negligence of other participants, or other persons who may be present; my own physical condition, and the physical exertion associated with this activity.
Furthermore, CPI personnel have difficult jobs to perform. They seek safety, but they are not infallible. They might be unaware of a participant's fitness or abilities. They might misjudge the weather or other environmental conditions. They may give incomplete warnings or instructions, and the equipment being used might malfunction.
I expressly agree and promise to accept and assume all of the risks existing in this activity. My participation in this activity is purely voluntary, and I elect to participate in spite of the risks.
Participation includes possible exposure to and illness from infectious diseases including, but not limited to, MRSA, influenza, and COVID-19. While following state and federal guidelines and personal discipline may reduce this risk, the risk of serious illness and death does exist. I KNOWINGLY AND FREELY ASSUME ALL SUCH RISKS, both known and unknown, EVEN IF ARISING FROM THE NEGLIGENCE OF CPI or others and assume full responsibility for my participation. I willingly agree to comply with CPI's and state and federal guidelines for participation as regards protection against infectious diseases. If, however, I observe any unusual or significant hazard during my presence or participaation, I will remove myself from participation and bring such to the attention of the nearest representative of CPI immediately.
I hereby voluntarily release, forever discharge, and agree to indemnify and hold harmless CPI from any and all claims, demands, or causes of action with respect to any and all injury, illness, disability, death, or loss or damage to person or property, which are in any way connected with my participation in any activity or my use of CPI's equipment or facilities, including, without limitation, any such claims which allege negligent acts or omissions of CPI to the fullest extent permitted by law.
Should CPI or anyone acting on its behalf, be required to incur attorney's fees, costs, and/or expenses to enforce this agreement, I agree to indemnify and hold them harmless for all such fees, costs, and/or expenses.
I certify that I have adequate insurance to cover any exposure to or illness from infectious diseases, injury, or damage I may cause or suffer while participating, or I agree to bear the costs of such exposure to or illness from infectious diseases, injury, or damage myself. I further certify that I am willing to assume the risk of any exposure, illness, or medical or physical condition I may have.
In the event that I file a lawsuit against CPI, I agree to do so solely in the state of Alabama, and I further agree that the substantive law of that state shall apply in that action without regard to the conflict of law rules of that state. I agree that if any portion of this agreement is found to be void or unenforceable, the remaining portions of this document shall remain in full force and effect.